Event Details
The future of wearable technology is here. Mass markets are rapidly adapting and transitioning from portable (mobile phones, tablets) to wearable (Google glass and motion sensors) devices. Wearables that live on, near or in our bodies give rise to a previously unimagined level of data about users and the environment. By enabling the connection of divergent data sets, wearables provide life-augmenting levels of interactivity that could benefit and enrich the ways that we understand individual and community wellbeing.
The inaugural Cloud Workshop challenges a selection of art and design students from the Asia-Pacific region to envision the future of wearable technology for the well-being of users. Projects will cast future scenarios for wearable technologies that harness the power of cloud computing to enrich connections between citizens of Australia and Hong Kong.
---
Details
The project will be run as a cross-disciplinary and cross-cultural activity consisting of Industrial and Product Design, Visual Arts, Interaction and Visual Design and Fashion Design students working in collaborative teams of 3-4 consisting of students from each institution.
Students will attend an intensive 6.5 day workshop led by the project coordinators. In the first two days students will be presented with theory and information relevant to the workshop theme and then they will have 2 weeks to collaborate, design and prototype future visions of wearable technologies that will answer the brief provided. They will be provided guidance by professional experts in various fields including design, arts, fashion, digital technologies and industry.
To conclude, an exhibition will be held at both locations simultaneously to present the cutting-edge ideas and showcase the work to the community.
HIF Cloud workshop is brought to you by the AVA Wearables Lab, Hong Kong Baptist University in partnership with School of Design, Queensland University of Technology and Queensland College of Art, Griffith University. It is an undergraduate version of the Haptic InterFace workshop.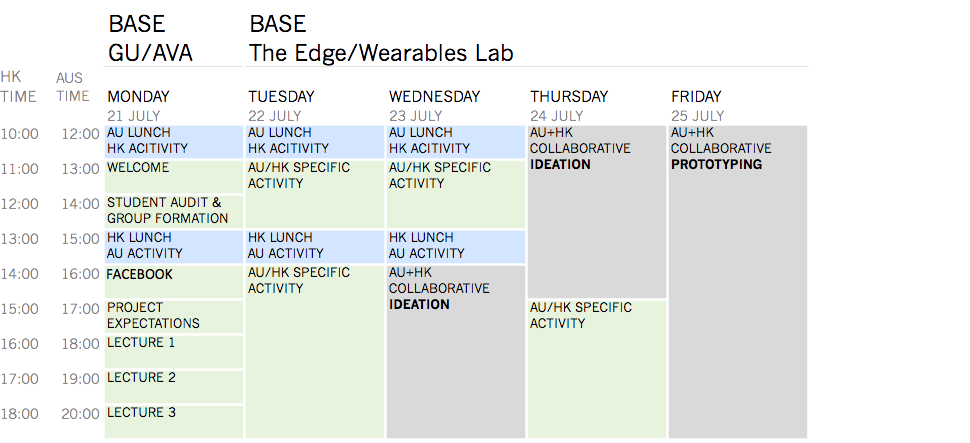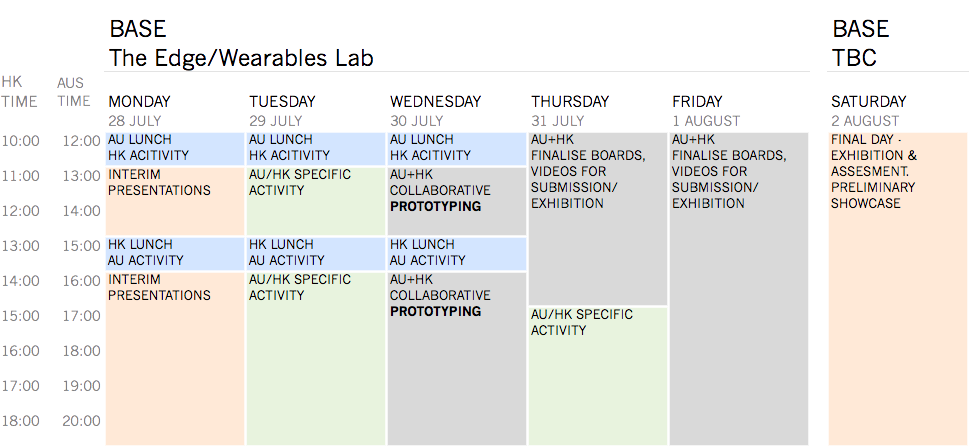 ---
Process
DAY 1: THEORY
A day full of introductions, hello's, finger sandwiches, coffee and skype… lots and lots of skype… Nonetheless a day full of fun, laughs and expectations. The staff led students through the project outline, brief, activities and finally some lectures to inspire and trigger discussion, thoughts and ideas for students in Australia and Hong Kong. Looking forward to day two…
DAY 2: INDUCTIONS, TECH TALKS AND RESEARCH
Day 2 saw students from QUT and QCA getting introduced to the Fabrication Lab at The Edge. HKBU students were presented with technology available at Seeed Studios, one of the project partners. Overall, students began to slowly conceptualise, envision and explore ideas about what they can achieve with their wearable design and art pieces.
DAY 3: MORE AND MORE TECHNOLOGY…
Hong Kong students continued advancing their technology skillsets and began to generate wearable propositions based on the project theme. Australian students were captivated by the possibilities (and limitations) of working with wearable technologies.
DAY 4: DESIGN DEVELOPMENT
Day 4 saw the beginning of the students forming inter-disciplinary groups across the three institutions. It was not always smooth sailing, but that is the nature of culturally and disciplinary diverse groups; all part of the learning and experimentation. Students began to develop concepts and ideas that brought the theme of the project together into physical manifestations.
DAY 6: CONCEPT PRESENTATIONS
Day 6 was hectic with multidisciplinary groups consisting of Hong Kong and Australian students presenting their work to the team. Five groups presented their proposals ranging from satellite dishes and gloves that spell out words in other languages through to dance enhancing costumes and emotion-sensitive jewellery. A good day!
DAY 7: IDEA GENERATION
As the second week started to roll on, student teams began to construct their prototypes. The designs and ideas were starting to take shape and words like 'soldering' and 'cross-stitch' were starting to be used regularly. The long hours students were putting in clearly reflected the significant effort and energy they were investing in the development of their ideas and concepts.
DAY 8: CUTTING, SEWING AND CODING
Day 8 saw students continuing to develop their designs using their newly-found skills and knowledge. They continued to develop and evolve their concepts through physical manifestations and prototyping.
---
Resources
PROJECT NOTES
Hong Kong Students Course Outline Document
Hong Kong Students Assessment Document
Griffith QCA Students Course Outline Document
LECTURE SERIES
SCHEDULES
EXTERNAL LINKS
Smart Contact Lens: Google + Novartis
The Human Cloud: Wearable Technology from Novelty to Production
School of Visual Arts: Master of Fine Arts Projects
Future of Wearable Tech Slideshow
NMC Horizon Report: What is Wearable Technology
Where and When
Wearable Labs CVA 401
Communication and Visual Arts Building, 5 Hereford Rd, Kowloon Tsai, Hong Kong
21st July to 2nd August 2014
People Involved
Expert Collaborators
Bruce Qin
Software Engineer, Seeed Studio
Dan Cook
Hack Catalyst, The Edge, State Library of Queensland
Dean Brough
Senior Lecturer, Queensland University of Technology
Dr Ben Kraal
Lecturer, Queensland University of Technology
Dr Kening Zhu
Interaction Designer, City University of Hong Kong
Hanson Cheah
Managing Partner, Silk Road
Karine Emanouel
Fashion Designer, Queensland University of Technology
Paul Bardini
Product Designer / Tech Support, Griffith University
Tom Blackwell
Industrial Designer, Design Collaborator
Yihui Xiong
Software Engineer, Seeed Studio